I feel like crap but the crap ain't helping me get the bun out of the oven. Midwife appointment this morning with Chantal went well, but we figured I wasn't quite in labour yet though my body is definitely getting ready for the big push. We didn't bother with an internal check or a membrane sweep though I could've taken her up on the offer if I wanted. We figured that even if I was 2 or 3 cms dilated I could still go like that for days so it might not tell us anything, plus the sweep sounded too uncomfortable for me today - I just was not up for it. If I'm still waiting next week I'll get it done. I've got another appointment set up for next week if I need it & I'm making an ultrasound appointment for Monday or Tuesday to make sure the oven is still working fine & the bun is ok. Stats from today are that the head is finally low in the pelvis, blood pressure is down (110/72), bun's heartbeat in the 140s & I measure 39 - 39.5 fundal height.
It's getting frustrating not knowing when this is going to happen. I was patient & ok about it until yesterday but then everything just got more uncomfortable. Mostly in my back. That popping sensation in my left butt the other night has turned into yucky pain. Not quite like the slipped disc I had last year, but close. Instead of sitting making it worse like the slipped disc, this time it's the walking, which is too bad because the walking could bring the labour on sooner. Oh well. So today I have 3 movies to watch while I lie on the couch. I'm not doing anything else. Everytime I get up the pain is worse so forget about all that last minute cleaning & stuff. I did the cake baking yesterday & a ton of laundry so that's going to have to do. Now is the time for absolute laziness & self-indulgence. Nothing else.
So that's it for now people. My brain is fried, my body is splitting in half & my bun is still baking. If anything changes this'll be the place to find out.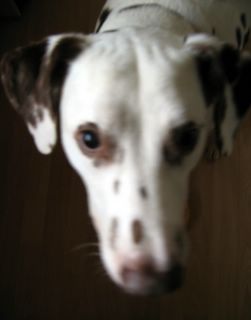 Joxer says hi
me & Joxer the mighty dog