for two lonely yet blissfully quiet weeks while he's off on his last hurrah with the mountain biking boys in Vancouver & Whistler. I was terribly sad when he left this morning, but after coming back home for a 4 hour nap I woke up to make some coffee & to find that he had left this.
Scotty's not here either.
Sorry Dave, its mine forever! Bwa ha ha ha. Some days I'm glad my dearest hubby is a bit absent-minded. I've loved this mug since your girlfriend gave it to me without you knowing. I'm sure Calvin will bring it out next time he comes. Ya, next time... that's it.
Joxer found a new girlfriend yesterday. He liked her a lot. She liked him too. It was a mutual love fest that probably had something to do with the fact that she was in heat & running around like the loose wanton bitch that she is. Though we tried our best to shake her off our trail, she followed us home & attempted to come inside. Since she was wearing dog tags we called the city so they could get in touch with the owners. Turns out the tag she had on was for a deceased dog (?!?) so they decided to come pick her up. We hung out on the step with her for about an hour & turns out she's probably the sweetest dog ever, though a bit shy. If the owners don't claim her, I think we might have to go get her from the pound & give Joxer the permanent live-in girlfriend he may or may not desire. Ain't she purty?
Pretty girl.
Last weekend we drove down to Peterborough for a little family reunion hosted by uncle Scott & Shannon. It was really wonderful to see all the kinfolk again & we totally appreciate all the work that went into this & for putting up with an extremely hyperactive Calvin. Loved the boat rides, the wading, the kids, the bacon, seeing Ruth going through the screen door & the shoe shopping expedition. Thanks so much for doing this & we'll definitely be there next year with the bun out of the oven. Hopefully the rest of the family can make it too.
I've been trying out a couple of photo album things to put on-line with pictures from the weekend. I pretty much suck so if I didn't e-mail you a link I'm afraid all the rest of you get to look at is one of Calvin being fascinated by a bubble gun.
Bubble boy.
So looks like I've made it to the 3rd trimester (the uncomfortable one). The Babyfit website tells me that the bun should be about 2.5 pounds & almost 16" long (head to toe), but then also says: "The baby's length is about the same as an ear of corn." I've personally never seen a 16" ear of corn & I come from prairie-land where the crops & the sky are big. Real big. Must be mutant monster corn.
I'm feeling pretty good though sleeping through an entire night is impossible, even with 6 pillows strategically placed for maximum comfort. I'm craving beer (thank you President's Choice fakie stuff!) & the heartburn is still driving me crazy plus I think I had the first horrible hint of
burning boob syndrome
(note the 5th paragraph down) for a day or so last week. Ai yi yi that was seriously nasty, but nothing a little Canesten & some Gold Bond powder couldn't repair. We'll see what the midwife says about it this week.
I know its crazy, but I'm innocently presuming (so I'm in denial - there's nothing negative you can say to me that I won't block out with my oh so powerful mind) that all the combinations of burning, searing, stabbing, shooting & oh so aching pains that I've managed to put up with over the years might actually put me in the right frame of mind to deal with a drug-free labour. That and stubborness. I'm going with this frame of mind until proven otherwise... kind of like the "fact" that I'll never get a mini-van. All practicalities aside, no one can convince me that we just have to get one because we've got a munchkin on the way. Nope. I don't care that it can transport all your smelly bike crap & the baby stuff & comes equipped with a dvd player. La la la I'm not listening.
Speaking of baby stuff, we keep getting more & more loaners & hand-me-downs from family & friends. Its great! Who knew there was gonna be so many benefits from procrastinating as long as we did to removing the goalie?! I seriously don't know how we're going to repay all these lovely people for all the goodies, but a major thank you goes out to all of you wonderful givers of stuff (I'm still not taking your mini-van advice though!). Now I just have to find a place to put it all.
Anyway, time for lunch (mmmm leftover curry) so I'll leave you with a picture from early this morning before we left for the airport. I look super impressed dontcha think?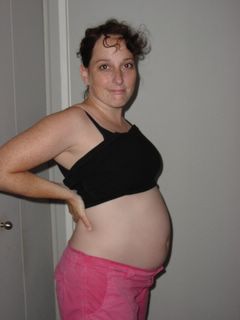 6am belly.