I get excited about this every year but it never seems to live up to my expectations. Next year I'll be more realistic & set my sights low.
What the hell am I talking about?
Doors Open Ottawa
. It's such a fantastic idea that buildings (businesses, places of worship, etc.) would open up their doors to visitors curious about the insides of places normally only seen from their exteriors. A wonderful way to "Promote[s] architectural literacy and strengthen[s] appreciation for the rich heritage that can be found and explored in our city's built landscape." Sure I guess but some of those doors need a bit of prying if you ask me.
We started the day determined to go to the original & newly re-opened
Library of Parliament
on the Hill. To do so we needed to get timed tickets to get into Centre Block even though we only wanted to see the Library. We go to the tent & find out it'll be an hour before we can go in so we decide to get the tix & go to the "new" Library on Sparks while we waited. Turns out someone forgot the tickets on the counter even though they managed to pick up bookmarks for everyone & none of us noticed until 1/2 an hour later so we figured it was too late to go back to try & reclaim them. Plus you don't really want to get caught trying to cut in line going into the building that seats your government. Could get you on a list or something eh? Anyway we were dissappointed not to see one of the sites we came downtown for though it was entirely our fault that we didn't.
The second place we stopped was the
Library of Parliament
which was formerly the Bank of Nova Scotia, a lovely Beaux-Arts building renovated to house the Parliamentary Library. The site says you are restricted to cordoned areas only. Ya , like about 12 square feet. It was good enough to see the atrium like interior but you couldn't get up close & personal with the cool
girder system
that was devised to hold the book shelves while not interfering with the original architecture. It's understandable that access is limited & that the books need protection from grimy bodily oils but still, it would've been nice to get a closer look. The librarian on duty must have gotten so bored by the end of the day repeating
ad nauseum
the answers to everyone's similar questions.
Library exterior
Let there be light in the library
Since the Doodles didn't like the enclosed space too much I went outside with her to get some fresh air & took a gander at the drizzly sky only to get a glimpse of a very cute face up yonder.
Hey ho. Ain't he cute? Kinda made up for the my slight dissapointment over the bank. We then ambled down Sparks Street in the drizzle with the baby in the Bjorn. That thing is a total magnet for smiling ladies & Grandpa's. (The younger men, not so much. Dang!) Too bad my back was done for at the end of the day.
Also on Sparks a weary steed in a tired pose.
We then made our way to the Connaught Building which is that castle looking building sandwiched between the old Daly building site & the American Embassy.
This is what I was tempted
with on the website & sadly this is what turned out to be the coolest thing about the place. Sure it's a nice coat of arms but sort of boring when you think you are going to walk into a cavernous castle-like interior. The bathroom was free to use so that was a good thing but it was a pretty lame lobby all the same.
Coat of arms
After this sad escapade we huddled under our umbrellas before deciding to try out the embassies on the list. A quick trip through the Chateau Laurier & into the car to make our way into Sandy Hill. I seem to remember more than two embassies on the list of buildings in previous years but all that was available were the
Embassy of Algeria
& the
Embassy of Croatia
. The plan was to try & get both of them in but we were running out of time. The Algerian Embassy was pretty stunning & made up for the previous lobbies only buildings. Too bad you weren't allowed to take interior photographs because the plaster work in the first room was fantastic. There weren't any guided tours like the website offered but that was made up for in hospitality by way of free wine & art.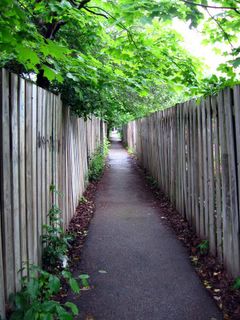 Laneway between Wilbrod & Laurier.
No justice in the laneway.
Plus this bee person with funky shades.
Much happier we then made our way to
Laurier House
which had free admission for the weekend. I've seen this building plenty of times driving around Sandy Hill but stupidly never realized it was a
National Historic Site
that was open to the public & was previously home to Sir Wilfrid Laurier & Mackenzie King. And here I thought I was a pretty good tourist in my adopted city. Guess not. Anyway it was really quite interesting & there were lots of guides around to answer questions & give little info sessions in various rooms. Favorites were the player piano & the political cartoons but by the end of it the Bun was losing her cool so we hightailed it back to the car & whisked her home.
Lord Strathcona's Fountain

So I know I sounded a bit sour at the beginning & really when you read this I don't have much to complain about seeing as though we only got to 4 buildings & 2 of them were pretty great. It's just that we weren't the only ones complaining. Plenty of people we met along the way were grumbling about the lack of openness at a variety of sites. It's too bad because the potential of this event is huge & it would be so interesting to see more of the offered sites. The best ones we've experienced have been the ones with informed tour guides who seem pleased to tell you about the building's history & architecture. Even if the building itself is lackluster a good teller of tales can make a huge difference. I know I should be proactive if I want more out of this but it's kind of hard to volunteer when you've got a monkey child dependent on your boobs. I doubt it would go over very well if I was offering tours while suckling a ravenous baby who pulls off at any minor distraction delivering my rack up for inspection along with the woodwork details.