Plus I didn't hold up any traffic.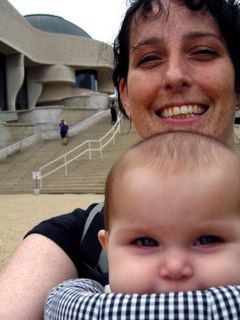 Us on the other side. (Please ignore the huge bags under my eyes - I am tired. Plus I am squinting from the sun. Oh, who am I kidding? They're always there.)
The evil bridge of which I spoke.
I would like to thank
Alan Neal
at CBC Radio for keeping my mind from focusing on what lay ahead. I would also like to thank the tailgater for backing off when we were on the bridge. As it was, I had to hum very loudly to cover the noise & tried not to think about how the metal grate below me was making my tires wobble.
The wave of relief that washed over me once we made it across was tremendous & I would've started crying except that I had to then drive into an underground parking garage. These also give me the creeps.
Yes, I know I am weird.
To distract you from my weirdness, here's a couple more pictures.
The view of Parliament from the Museum of Civilization.
Douglas Cardinal's Architecture

The exhibit? I went to see
Petra: Lost City of Stone
. It was quite good. Lots of carved stone, prints & artifacts. Most interesting was the Nabataean civilization's use of water from desert springs 5 km away that was ingeneously channeled through the canyon city. Really cool. If you are into that sort of thing. The displays were nicely organized & the well thought out graphically.
The Doodles was marvelously well behaved & once again got lots of attention since she was in the Bjorn. She had a great time trying to grab the letters off of the printed display boards in the exhibit & then sucked on some watermelon when we were done. We saw some ducks, some rabbits & a gorgeous yellow finch. All in all a great day.
P.S. Note to self. Avoid Children's Museum on a Tuesday afternoon in June. Those kids were wild I tell ya. Wild. And also, they did not look where they were going, ever.
P.P.S. I did not give my child a bath today. Nor did I do any crunches. I did eat some delicious pizza though. Just thought you should know.