To
the Rock
of course. For wedding number three of 2005.
The trip started off with a train ride to Montreal (love the train) & then we jet-setted it off to Halifax so we could hang out at the airport for 4 hours while we waited for our connection to St. John's. If you want free wireless internet at Halifax International go hang out at the pub near security. You too can look like a total geek while you booze it up.
We got into town & were soon regaled with gifts via Calvin's mom. I now have more than a gazillion receiving blankets, burp pads, & warm fuzzy blankets to last through eternity. I'm still not totally up to speed on the dynamics of receiving blankets, other than they're great for drooly babies that like to spit up frequently. I kind of thought that's what the burp pads were for. Man am I ever dumb when it comes to this stuff. I'll just blame it on
pregnancy brain
though & hope for the best. Seriously, even if you tell me what its all for or what something does, it'll all go in like whah whah whah whah whah (ala Charlie Brown's teacher) & leave me remembering diddly-squat. I'm telling you, don't even bother. Brain has officially turned to mush though I apparently have enough left to remember some people telling me it'll never come back. Great. So much for all the "gifted" classes I was in once upon a time. Gifted my ass.... more like my ass is gifted. Bwah ha ha I'm so funny.
OK... not.
Back to the presents. Mrs. D also made us this lovely quilt which I hope to never get any forementioned baby puke on. My favorite part is the butterflies border. The back part has ladybugs & other cute insects along with a message from Grammy to the new little terror. He or she will be wrapped with love. Ain't that sweet? Here's a pic.
The new quilted love wrap.
Besides the wedding festivities we mostly hung out with the family rather than do anything touristy. No fish n'chips at
Leo's
. No excursions around the bay. No fantastic hikes. Just lots of napping on my part. We did manage to get in one glorious afternoon at
Cape Spear
with Bruce & Susanne & the boys. The weather was fantastic & you could see
Skademia
sailing gently by. Thomas enjoyed the flashlight tour of the old amunition bunker & I almost passed out on the stairs up to the lighthouse. Despite the rack my sister so nicely pointed out already in the comment section, my lungs are probably the size of a rabbit's at the moment making any physical effort on my part a gaping mouthed panting & huffing ordeal as I try to suck enough oxygen out of the air around me (already stagnant with my exhalations) to sustain my momentum. Here's a souveneir of our day before I was totally winded. I'm the one that looks like I've been devoured by a crazy bubblegum monster.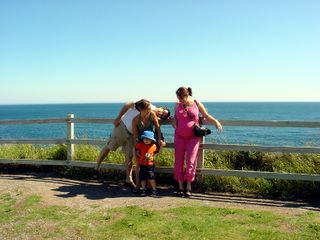 Bubblegum pink.
After our day at the Cape, we all went out to celebrate our birthdays at a restaurant down in the Gut. The food was yummy, especially the
scruncheons
& the berry crumble. Mmmmmmmm. I couldn't stop laughing the entire night so my napping must've paid off. Add to that jokes about Ron Hines, something about pirates & this
lonely man with ascot & you've got me in hysterics. Good times man, good times. Love the ascot. No really, I do.
On to what we went to Newfoundland for. The wonderful wedding of Walter & Justyna in Portugal Cove. To sum it up, gorgeous dress, sunny skies by the ocean, a nice Catholic ceremony (we've been to some that have been really loooooong) & a priest that messed up the bride's name. Nothing like being called the wrong name during your weding ceremony to make your special day all the more special. Afterwards Calvin I drove out near Fox Trap to see if we could see the Queen Mary II that was sitting in the bay. You could see it from far away, but as we got closer it was hidden by Little Bell Island so we decided to go to Berg's for some yummy ice cream instead.
mmmmm soft serve twist cone mmmmmm
Then back home for a change of clothes & on to great food & dancing all night at the reception at Murray's Pond. Calvin started off with a G&T, then moved on to the Caesars, followed by red & white & sparkling wine with dinner, then some more G&Ts to be topped off at the end of the night by some fine single-malt. Needless to say, Calvin has now fully taken advantage of the free designated driver situation he has. Good thing it was also his birthday so he was in less trouble than he could've been from me. Cheers to you good buddy!
The happiest couple ever.
Anyway, after a much fun-filled time in Newfoundland we headed off to Halifax to see my sister Andrea for a couple of days, along with Pete & Sophie & Emma. It was a great way to wind down before going home & back to work. Finally got in some great fish n' chips & yet more ice cream (you should all buy stocks in Lactaid at the rate I'm going.... & of course Zantac) & homemade fudge. I got a very pretty necklace for my birthday that Sophie picked out herself & also a wonderful blue manicure. It was Soph's first day of grade 5 at a new school the day we left so Uncle Camel & I got to walk her to school & check out her oh so hip & cool outfit along with several of her friend's Avril Lavinge shirts. On the way home I tripped myself up on the sidewalk & went down pretty hard on my knee & hands. Nothing like seeing a pregnant lady fall to get some attention. I think Calvin caught me sort of on the way down & the belly missed the sidewalk so that's good, but now my ankle is kind of blue & swollen while the other foot is messed up near my toes. Don't think I'll be doing much dancing at this weekend's wedding (#4 of 2005). Oh well, I'll just keep thinking about ice cream.
Ice cream buddies