Post coming later... gotta work right now.
These pics should tempt you to come back.
Were you tempted?
Just wanted to wish a few more Happy Birthdays to my uncle Denis, Stan the man, Beezer, myself & my darling sweet hubby Calvin. Here's to you geek!
Proof of the geekness. Hanging out in Dorval airport searching for wireless hotspots. None to be found sadly so it was off to get a beer & magazines after this. Of course, idiots that we are, we left the magazines at the bar so we had nothing to read on the train ride home.
After getting back to Ottawa we had 2 days of work, then it was wedding weekend number 4 of 2005. Our pal Jody came to stay with us so we fed her poorly & kept her out 'till the wee hours of both Friday & Saturday nights. Friday was rehearsal pub night at the
Fox n' Feather
on Elgin, which consisted of Calvin whinning & complaining about how cold he was out on the patio. It was a bit chilly & I had persuaded him to leave his big leather jacket at home since I figured we'd be inside all night. Big mistake! Though I apologized profusely for my major blunder, he would not shut up about it for the entire weekend. I even went back to the car to see what I could find for him to put on & found what I thought was his long sleeved biking jersey. Whoops. Turns out it was King's smelly short-sleeved jersey which had been in the car getting dank for about 2 weeks. He put it on anyway & suffered all night like a miserable sucky-baby. And guess what? I drove home again.
Saturday turned out to be glorious weather wise so yet another perfect wedding afternoon was had by everyone at the beautiful
Billings Estate
Museum. Katherine looked gorgeous, Geoff looked super duper happy & the Timbit was as cute as ever. Delicious food by Nate's Deli, a whack of yummy cakes & chocolate fondue topped it all off. That &
Jesse's Girl
. Everyone had such a great time, though it seemed to end too fast. This was remedied of course by going back to Elgin Street for a whiff of desperation. If you've ever been to
Maxwell's
you'll understand what I mean. It just oozes off the cougars there. The place is great for a laugh & can be tons of fun if you're drunk, on a stagette or just want some entertainment. If you are 8.5 months pregnant & stone cold sober, its only mildly entertaining. The dance floor was downright scary so even though Calvin tried to pull & persuade me up there, I high tailed it back to an empty barstool. From this vantage point I had a fantastic view of many tight t-shirts encasing large fake boobs bounce around boys with greasy long hair. Ahhh, a perfect way to cap off a fine wedding.
For some bizarre reason I was the one who woke up with a hangover the next day, not my fellow housemates who'd been merrymaking all night long. Screw you both, you bastards! Must have been the all night urge to urinate every hour on the hour. Either that or the frequent feeling that the bun is trying to punch & kick its way out via my ribcage. Anyway after a nice Sunday brunch our jolly Jody left us with a lovely parting gift for the little monster that our dog now wants to devour. Its a
totally cool little toy
that lights up, rattles & squeaks in all the right places to tempt Joxer the Mighty Dog in all the right ways. I'm a little concerned that I'll be spending a fortune on Dollar Store stuffed toys just to keep him out of the baby's stuff.
Speaking of baby, we've made it to 34 weeks so only 2 more until term. That's freaking scary! Looks like it weighs about 5 pounds now & is pretty much just getting fatter by the day. I'm still the same weight as a couple of weeks ago, but I think I've expanded a bit more. I'm still measuring about a week & a half behind fundal height wise (32.5 at 34 weeks) & my blood pressure was totally excelllent at the last midwife appointment (108 / 60) as was bun's heartbeat. Thrashy McKicky is slam dancing quite frequently against my ribs & is almost always facing my right side which is actually more comfortable than the left as it always manages to find my spleen or the scar tissue left from the ovarian cyst I had early on. Uncomfortable to say the least. The past few days I've been constantly starving so I'm trying to eat lots of small teeny tiny meals to keep the hunger & the demon heartburn away. The super-duper strength Zantac & Gaviscon combo the doctor ordered seems to be working pretty well, but I still have to stay away from evil foods such as onions, tomatoes, soft drinks, caffeine (I water down the coffee in the morning) salads, spices & supposedly, chocolate though I haven't had too many issues with that - probably mind over matter.
Anyway, since some of you are far away & want an update on my girth, here's a couple of pictures from this weekend.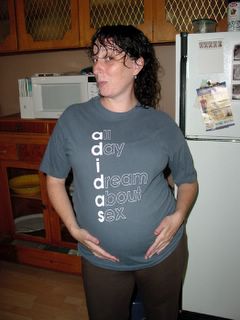 ADIDAS
Aren't I saucy?
Here's one from the wedding on Saturday. I'm wearing my "L" pin Amma gave me ages ago. Calvin likes to call me Laverne when I wear it. I like to call him jackass.
Wedding belly fun.