The Children's
Maze
Museum
This is a great place to bring the monkey child. I'm going to miss living 4 blocks away from the Seattle Center because at $3 a pop (Microsoft discount) this place is so worth the uphill stroll. Unlike the Children's Museum back in Ottawa this one has a fantastic area for little ones 2 & under called Discovery Bay. Park your stroller & away you go into toddler heaven. First there's a decent sized fish tank that Doodles promptly tried to lick the scum off of & then once sated, she started smacking the glass so as to scare the bejeebus out of the tank creatures. Poor little fishes. Once inside the
padlocked
gated (so as to keep the older riff raff out) area there's several of those wood bead bent metal maze things set up along the wall, as well as a couple of child sized table height ones. Of course she tried to eat the wooden pieces. Mmmmm crusty woodiliscious.
Next to the wall of wood chew toys is a seaweed area with bells attached at their bases above your head so when you walk through the vinyl green wavy things tinkle which makes for a fun game of peek-a-boo. Spread throughout the Discovery Bay are a few padded / matted play structure areas where your little ones can practice climbing & if they are like mine, biting & sucking on the vinyl mats. There's also a huge basket in one corner that contains clear plastic tubes filled with assorted sparkles, plastic die, bells & the paper circles from your old three-holed punch. These are good for bonking against each other, as well as against other children's heads. Also good for rolling along the floor with both hands so that you end up doing a face plant into the carpet. Oh and throwing into the air. That's the fun. The best part in this wonderful area for Doodles is the little pond where two tiers of water are filled with various plastic sea creatures & boats for her to put in her mouth right after all the other germy kids. The ponds are too high for her for the moment so I am also stuck bent over like some old hunchbacked crone so she can be at the level needed to splash & grab the toys, but hey, at least there's vinyl smocks to don so she doesn't get her clothes wet. Not that she cares & not that I get to stay dry. The blissful look as she sucks the air brains out of the killer whale squeeze toy does however make up for any soggy garments I may have to wear.
The special exhibit on display at the moment is Clifford the Big Red Dog. Though we've never watched this cartoon I figured we'd check it out since all she wants to do is look at doggies lately. She can almost say dog now & it's hilarious to watch her get so overexcited whenever she sees one of the canine crowd. She'll kick & wave her arms & squeal & laugh hysterically at any dog she sees. Thankfully we haven't met too many nasty ones yet but I'm starting to get a bit wary of where & to what she's thrusting her innocent hands at. Anyway, the Clifford exhibit is pretty cute despite the whole thing needing a bit of antibacterial cleansing & a few less pushy kids. I know the child was only 4 or 5 years old but did he have to take ALL the plush flowers out of my baby's hands? While she was trying to suck on it? No harm done but we were both a bit surprised. Good thing there were several large fibreglass dogs around to take the sting out of dashed suckage. Doodles especially liked the one named Cleo, a poodle with a perky little nose. Perhaps it reminded her of Gramma's menagerie of doggies, or maybe she just wanted to gnaw on that snout.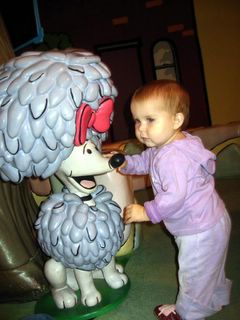 Getting ready for some gnawing
There were plenty of other things to see & play with in here. The older kids appeared to be having great fun playing mail delivery person & maneuvering large dog bones onto some conveyor belt thing that I believe deposited them into a large dog bowl (I wasn't paying attention because it looked too big for baby to play with). There were books to read, musical instruments to smash, a fake sand castle puzzle to piece together & a grocer's deli shop complete with plastic food & a kid that told me to get out because he was playing in there. I'm sort of glad crazy pirate baby has yet to form words because from some of the smack I'm hearing from the youngsters these days I am not looking forward to the lip I'm sure is in store for me. Oh and the swearing. At the rate that I'm (still!) cursing at the dog I'm almost positive her first word will start with an f. That'll go over well at the playground won't it?
Watching the roses get snatched makes baby
So very sad

So… lots to see & do & play with at the
Seattle Children's Museum
. Besides the two areas we hung out at there's several other spots to have fun in, including a gear / machine section called Cog City where you can depress levers, press button & watch science at work. There's also a music area where I think you can play some instruments, etc. but again I didn't really check it out too thoroughly as it was way beyond our respective age levels. One area that we explored a little bit was the regular exhibit (doesn't really seem like the right word but whatever) which was different parts of the world as a village. (Ah I see... it is the Global Village.. I'm a little slow.) Little splices of life from China, Africa & more displaying living quarters, dining & shopping likely to be found in each place. Kinda neat & there were some wooden musical instruments for baby to bang away on but for some reason there were some really weird dead ends. In fact there were quite a few of these throughout the museum. You think you'd be walking to another room or a way out & bam there was a wall in front of you so you'd have to backtrack to get back to the beginning. I think someone needs to rethink the flow of user traffic in this place because it's just not the most intuitive set of pathways I've experienced. Some of the displays also need a good cleaning. Won't somebody think of the children? The dirty, germy children who put things in their mouths, probably after sticking them down their pants? Anyway, I'll give it an A for keeping baby happy & getting me out of the apartment twice in the last 6 days.